Where Meditation Meets Daily Life
MF 44 - The Role of Mindfulness, Gratitude, & Peace Practice in Islam with Rose Hamid
Sicco Rood interviews meditation teachers of various wisdom traditions
Feb 17 2016
MF 44 - The Role of Mindfulness, Gratitude, & Peace Practice in Islam with Rose Hamid
Rose Hamid is a Muslim American of Palestinian and Latin descent. She was born in Buffalo NY, grew up in Cleveland OH, and has been living in Charlotte since 1987. She grew up in the Catholic tradition but chose to follow Islam when she started her family. She has been married for 33 years, has three children; Suzanne, 28, Omar, 26, Samir 24.
She has been a flight attendant since April 1985. She is the Co-Founder and President of the Muslim Women of the Carolinas; a local organization whose mission is to bring the diverse Muslim women of Charlotte and the surrounding area together in order to get to know one another and to do good works. She is a frequent speaker about topics such as Islam and the role of women in Islam and is a guest columnist for the Charlotte Observer, writing monthly columns.
After the attacks in Paris, Donald Trump proposed the establishment of a database of all Muslims in the country. Later, Trump called for a "complete shutdown of all Muslims entering the United States until our country's representatives can figure out what is going on." The First Amendment to the US Constitution guarantees the right to freedom of religion.
Hamid told CNN before the Trump rally that she only wanted to give Trump fans "an opportunity to meet" a Muslim. "I figured that most Trump supporters probably never met a Muslim so I figured that I'd give them the opportunity to meet one" she said.
How did you get to a spiritual practice?
My mother is from Columbia, South America. And her father is Palestinian. He went to South America in 1938, when his country was in turmoil. And the economic development had a downfall. Where he met Rose's mom, and they got married.
We grew up in the Catholic religion/tradition. Where she had a lot of questions. I remember asking nuns these questions. My biggest question was this concept of original sin. And when I grew up, this was they way it was taught, or at least the way I absorbed it. I recall that Eve in particular had tempted Adam, and they had eaten the forbidden fruit. And they had sinned against God. And that was the break between God and humanity.
Therefor people couldn't have a direct connection with god. That's how I understood it. Therefor I would have to talk to a priest, who would talk to Jesus, who would then talk to God. Because I was not worthy of this connection to God.
So a lot of middlemen, intermediators?
I felt at an early age that that was not fair. So we plotted along, with going to church, until right before confirmation. When she was about 12, or 13. By that time, her father started to learn about his own faith, he was a Muslim, but wasn't practicing it growing up.
So we started to realize how the church was very different compared to what he was used to growing up in Palestine. Where Jews, Christians, and Muslims lived among each other and were all considered people of the book (adherents of Abrahamic religions that predate Islam) from the Muslim perspective.
I don't think he realized how different the teachings were, until he came to America. And until he really started to learn his own faith. So he was trying to teach us more about Islam, but we really didn't have much interest in it, at 13 years of age. And he wanted us to wait until we were older to become confirmed.
So I really didn't practice anything. I believed in a higher power, God. But not much else. So it wasn't hard for her to leave the Catholic church at that time. It seemed to me that religion was being used to divide people in her experience. So I didn't have much desire to join any particular religion.
Until after my husband and I got married and we started a family. My husband didn't talk much about religion, he is Palestinian. There was an assumption there was some Muslimness going on. But we didn't talk much about it. But I was going to have to teach my kids something. I started to learn about Islam, and it answered a lot of questions I had growing up.
The biggest Aha moment, was the idea in the Islamic tradition of the story of Adam and Eve. In this tradition, the two of them. God here doesn't make Eve more culpable than Adam. The two of them disobey God. Then when the two of them, realize what they've done, they ask for forgiveness. And God forgave them. So there was never a break between God and humanity.
There was always a connection. They suffered the consequences of their actions, but they were still connected to God. That to me was monumental, to have this ability to connect to God.
Interesting..Where there other questions as well that were answered for you in Islam?
This is just what I remember, I don't want to make the Catholic faith sound bad. I'm just telling my personal experience. I remember it seemed like God was always angry.
Yeah, the old testament God for sure...
Even in the Catholic tradition, I just feel like it's from that concept of original sin. You just feel like you're not worthy if you don't do that kind of thing.
I remember a couple of things in Islamic teachings that drew me. And one of them is this idea that God is not just your judge. He's your attorney, your character witness, your supporting friend, who's going to be there to help you during the judgement. Seeing God in that perspective was very comforting.
Also, the concept of there's a saying, that if you turn towards God, he comes running towards you. That idea, of a God who wants us to come to him, that felt more like the connection that I had been searching for.
And also from my own reading from the Koran, as compared to reading from the old testament, it seems like God is described as much more compassionate and forgiving.
Right, most merciful, most kind. That's repeated time and time again. As Muslims pray, 5 times a day. We repeat it 5 times a day 3 or 4 times within each prayer. We're constantly saying, "In the name of God, the most merciful, the most kind...Praise is due to God, the cherisher and sustainer of the universe, most gracious, most merciful. Master of the day of judgement..Guide us along the straight path - the path of those whom You favored, not of those who earned Your anger or went astray. "
So is something we say in Arabic. Those words, are things that, contrary what people think, that is how we see God.
Was there a particular transformative moment of grace in your journey as well?
I wound't call it a moment of grace, the understanding of the story of Adam and Eve was my Aha moment. Realizing, if God was willing to forgive Adam and Eve, then how should we as humans treat other people as well, as far as being forgiving beings.
My shift in the way that I saw God, and the relationship I had with God. That was really the most transformative thing.
You mentioned the 5 times a day of prayer, which I see as a very beneficial practice. I practice Zen Buddhism, and there too is a strong emphasis on constant practice, not just once a week, but constantly. This is much more likely to help you give you a more intimate spiritual connection.
Yes, and I know that with any faith tradition there's a big range. There's people who pray daily, Christians who are more spiritual daily, and try to make more connections with God throughout the day. And then there's folks who go just once a week, and then there's what a friend of mine calls the, "Creasters", the folks who just show up at Christmas and Easter. So there's a range.
The same is true with Islamic faith. People who are very diligent about prayer, and then some who not so much.
Same thing in Buddhism as well, a lot of people who paying lip service to this practice, or those who wear the clothes, but don't practice it. And I was going to talk about that later. But to me to some extent the people who are hijacking the narrative of Islam, the actual terrorists...
...they didn't read the whole Koran book at all.
They're not doing anything that's being said, and they're very judgmental. They kill and chop people's heads of, etc. They're being the judge and executioner. That shouldn't be their job at all. Based on what I've been read in the Koran (In the Koran God instructs the prophet and Muslims not to judge or harm disbelievers, that this is his job to deal with them).
You probably read more than they have (laughing).
I think these folks who are in power in many places in the so-called Muslim world, are not following Islamic doctrine. When I hear about things that people have done, I can't fathom that these people have read the Koran, or whole Koran. They might have read snippets that somebody handed them, and told them this is what it says.
Right...
Unfortunately I think that humanity is like that. If you get a new cell phone, and you get all these instructions on how to use it, but you tend to just usually go to a 12 year old, and ask them how to use it. Just show me the basics so I know how to get along. That's what people do...they just want the quick, get it to work, work for me in whichever way I want it to work. Without really understanding the depth of what it can do...
So I take that analogy into how people understand their faith. It's just easier to listen to whoever has the microphone, and then go, "Ok, I've done my studying". And people don't get into the depths of it.
Yeah, that's very expedient...not doing the work themselves, kind of outsourcing it to whomever has the loudest horn.
And another big part I noticed, I see it a lot in the old testament as well. It required me to have fresh eyes in reading it. Is the gratitude part, and how important that is. As humans we have such a tendency to take things for granted so quickly. One of the advantages...Spiritual and religious practices get such a bad rap, but there are so many good things as part of it, that would make humanity as a whole be in a much healthier state of mind. Like for example, the gratitude emphasis.
What's your take, or what role does gratitude play in your practice?
Part of the daily 5 prayers, there's some parts are structured, where there are certain things you can say and do. And other parts, you can read different parts or verses of the Koran. And some people have memorized certain verses that they've connected to, depending on how they feel. And a lot of them have to do with gratitude.
When you're in submission, you're praying, and your forehead is on the floor, you're in a state of gratitude. Thanking God for what he has provided. It's difficult to pray 5 times a day without having an element of gratitude in it. So there's constant gratitude.
There's an expression, "Al-?amdu lill?h", which means, all praise is due to God. Like if someone says, "you did a great job, or other compliments, you respond with Al-?amdu lill?h. All praise is due to God, that to me is this gratefulness that God has bestowed on us.
There's even a sense of, if something bad happens, it's an expiation for past sins. So there's even a gratitude for that. Thank you for providing me an opportunity to expunge a sin. So they're a constant sense of gratitude for what has been given, even if it's a bad thing. For having the opportunity to get through that.
Continue reading on the web site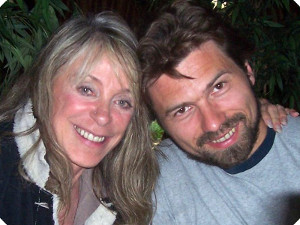 About Sicco Rood interviews meditation teachers of various wisdom traditions
Lives in the Anza Borrego desert.
Click here to see the full author's profile
Recent Episodes
MF 48 - Mindful Communications with Gregory Cheffron
MF 47 - Questioning solitary confinement and the Prison Industrial Complex with Johnny Perez
MF 46 - Reconnecting with Nature through Eco-Therapy with Laurel Vogel
MF 45 - Stepping Out of The Busy-ness of Daily Life Into The Sanctuary of Our Heart with Bruce Davis
MF 44 - The Role of Mindfulness, Gratitude, & Peace Practice in Islam with Rose Hamid
MF 44 - The Role of Mindfulness Gratitude Peace Practice in Islam with Rose Hamid
MF 43 - OMG I can Meditate! Guided Meditations to Help Develop a Regular Meditation Habit with Lynne Goldberg
MF 42 - A Life Time Commitment to Zen Meditation Practice after 12 Steps with Sandy Haskin
MF 41 - Best Wishes for 2016 and Timeless Moments
MF 40 - Sound Healing Meditation & Resonance with Mark and Denise