Where Meditation Meets Daily Life
MF 42 - A Life Time Commitment to Zen Meditation Practice after 12 Steps with Sandy Haskin
Sicco Rood interviews meditation teachers of various wisdom traditions
Jan 31 2016
MF 42 - A Life Time Commitment to Zen Meditation Practice after 12 Steps with Sandy Haskin
Sandy Haskin practices Zen meditation with the Three Treasures Sangha of the Northwest. She currently lives and works in Spokane, Washington. She works as a Nurse Aide at a home for mentally ill adults, and also sells books, DVD's, CD's on Amazon with her sister. She has worked at the former for 10 years and the latter for 5 years.
What was your life like before taking on a meditation practice?
Sandy remembers how she began to meditate and when, she had just left the town she grew up in, Spokane, WA. And she moved to Olympia. And found out because of her family history, she could get some help via friends through the 12 step program, so she joined (ACoA) Adult Children of Alcoholics and began to work the 12 steps. This was in 1986. And she thought moving away from her hometown would help her take care of her problems and her dissatisfaction with her life and herself.
What she had done was move to Olympia, and create yet another dysfunctional relationship, like she had had in Spokane. So she was disappointed that it repeated itself and where her life was headed at that point.
And you mean by relationship, with another?
Yes, with another man. So she was confounded what to do with her life, and how to make her life work. So she read a book called, Women Who Love Too Much, by Robin Norwood. And she said, if there's any alcoholism in your family, look up a 12 step group. And I said, well, I qualify! (laughing) It was just an afterthought, last chapter in the book. So Sandy went to ACoA, and found her home.
12 steps is all about finding a spiritual answer to your life, to your problems. And it is not an option, that's the whole basis of the 12 step program. But they don't tell you what it is going to look like, that is your job to find the answer.
So Sandy began to meditate at home, watching a candle flame. That particular meditation just so happens to be the one she began with. She then ran into a friend, Pamela Lee who invited her to meditate with her in Seattle. So she began sitting with a group, which was fundamental for Sandy. To start a practice, and be connected with a group, a schedule, a teacher, and a community. That was back in late '86. And she's been meditating ever since, off for about 5.
Was meditation part of the ACoA, or is it all find it on your own?
I called myself not an alcoholic, but ACoA, I was in 4 different 12 step programs. But yes, the 2nd step is coming to believe that a power greater than myself could restore me to sanity. And the 11th step is through prayer and meditation seek to improve your conscious contact with God as I understood God to mean. Praying only for knowledge of God's will, for me to carry that out. So yes, prayer and meditation are very basic, I made them basic to my program. But it is not necessary, but it is part a path you could learn. Other folks go to church and don't meditate, and yet others do go to church and meditate. You gotta find your own way, finding your own spiritual path.
And you were in 4 different 12 step programs?
I was, I was quite the addict! (laughing) In fact I was ordered to go, my best friends were there, it was so much fun. I was going to treatment for my alcoholism, which I love, I love the attention to myself. And the counselor said, when we're finished with your treatment, you will go to AA. And I said , I will not, I'm already in another 12 step group, I love it, and I'm getting it. So she couldn't finish her treatment there. She started out in one group and ended up in quite a few others.
So what kind of meditation group did you end up in?
Her friend had sat extensively with the Three Treasures Sangha, a Zen meditation group in Seattle, Washington. They're under the umbrella of Robert Aitken's Diamond Sangha in Hawaii. And she has been with them ever since.
What did you find in particular very helpful about a Zen group like the one you're going to?
I guess the focus is totally on meditation, and not so much what you do or don't believe. In fact, the people that introduced her to this practice, are Catholics, and don't even want to be called Buddhists. So the focus is on the practice. Doing the practice, and committing to it. Sandy liked what she saw in these people, they were adults, her age. She seemed to really settle into just meditating. Not too much of read this, follow that person, there wasn't so much asked. Then when there was a teacher, you could listen. It wasn't like sermons in church. More focus on meditation, which fit her personality more.
Where there insights during this journey, maybe early on that made you realize you wanted to keep coming back to it. In other words, that kept you motivated to keep coming back to it?
Yeah, one thing about meditation that is hard for our culture, is I don't believe that there are typically not instant results. There are subtle results, like over time, her personality started to calm down. From the outside, for example, you wouldn't guess that I have a lot of anxiety. But I did, I was tongue tied, I was very self conscious, worried about things I would say, etc. And meditation seemed to calm things down, but it took a long time.
I remember a strange story. I was sober and looking for God, looking for a program for a few years. And I wasn't getting it...Like where is God, or the spirit, whatever. I was miserable.
When you go into meetings, Jamborees, retreats, etc. With all these people that seem so happy, and I wasn't so happy. So I was asking God for a sign. I was desperate. I was like, there is nothing happening, there's nothing here, I just wasn't getting it.
And..I was, maybe I need this, maybe some people don't need to get what I got. So I asked for a sign, but I did, I was up in the middle of the night. I had been sober for a year, religiously doing the steps. And I was on the toilet crying in the middle of the morning. Sometimes you have those nights! About a half hour after that, I started to smell smoke. I lived in an apartment, and I opened the door, there was smoke coming down the hallway, and one of my neighbors apartments was on fire.
So I went back to my apartment, and we ran to get everyone out of the place. I went back and locked my door. It was a mess, my place was a mess, they smashed my door, so don't lock your door if you're ever in a fire!
Continue reading show notes on the web site..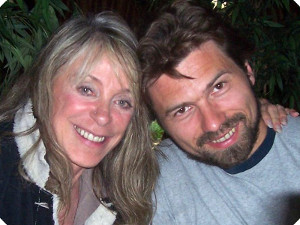 About Sicco Rood interviews meditation teachers of various wisdom traditions
Lives in the Anza Borrego desert.
Click here to see the full author's profile
Recent Episodes
MF 48 - Mindful Communications with Gregory Cheffron
MF 47 - Questioning solitary confinement and the Prison Industrial Complex with Johnny Perez
MF 46 - Reconnecting with Nature through Eco-Therapy with Laurel Vogel
MF 45 - Stepping Out of The Busy-ness of Daily Life Into The Sanctuary of Our Heart with Bruce Davis
MF 44 - The Role of Mindfulness, Gratitude, & Peace Practice in Islam with Rose Hamid
MF 44 - The Role of Mindfulness Gratitude Peace Practice in Islam with Rose Hamid
MF 43 - OMG I can Meditate! Guided Meditations to Help Develop a Regular Meditation Habit with Lynne Goldberg
MF 42 - A Life Time Commitment to Zen Meditation Practice after 12 Steps with Sandy Haskin
MF 41 - Best Wishes for 2016 and Timeless Moments
MF 40 - Sound Healing Meditation & Resonance with Mark and Denise