Where Meditation Meets Daily Life
MF 017 Tania de Jong - Australian Soprano - social entrepreneur, business woman and motivational speaker
Sicco Rood interviews meditation teachers of various wisdom traditions
Apr 26 2015
Tania de Jong
Tania de Jong AM is a leading Australian soprano, inspirational speaker, social entrepreneur, spiritual journeywoman and creative innovation catalyst. She founded Creative Universe, Creativity Australia, Music Theatre Australia, Pot-Pourri and The Song Room and works with diverse communities through the 'With One Voice' choir social inclusion programs. Tania sings around the world as a soloist and with her group Pot-Pourri releasing 7 CDs. She is Founder and Executive Producer of Creative Innovation Global.
Tania's TED Talk How Singing Together Changes The Brain has sparked international interest (see Youtube video embedded below). Tania has recently released her solo CD Heaven on Earth.
This is a summary (not a full transcript) of the interview
How did you get started with a meditation practice?
Tania: Yeah, I started with TM, wasn't very disciplined at it. For me, singing became my meditation.
Singing is an active form of meditation.

When you sing you have no choice but to be totally in the moment.
You have to be conscious of your breath, and you can't be thinking about anything else. Your body is an instrument. To actually sing sustained sound, you have to keep your breath going. Its' similar to meditation, having an even exhalation breath, that's what the sounds sits on.
If you practice hissing, you get a sense of what happens. You need to keep the air flow going.
Did meditation help you with singing?
Yoga helped as a more active form of meditation. Its hard to sit and meditate. Chant is a kind of singing is a meditation in my Zen meditation.
Letting my breath sink, use your whole body as an instrument, instead of just the top.
Yes, changing and singing correctly engages your whole body right. Through mother earth you bring the sound of the earth. Tani feels like she's breathing all the way from her feet and up. She feels this incredible energy sphere around her body.
Continue on to the show notes or subscribe to this podcast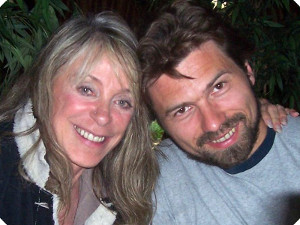 About Sicco Rood interviews meditation teachers of various wisdom traditions
Lives in the Anza Borrego desert.
Click here to see the full author's profile
Recent Episodes
MF 48 - Mindful Communications with Gregory Cheffron
MF 47 - Questioning solitary confinement and the Prison Industrial Complex with Johnny Perez
MF 46 - Reconnecting with Nature through Eco-Therapy with Laurel Vogel
MF 45 - Stepping Out of The Busy-ness of Daily Life Into The Sanctuary of Our Heart with Bruce Davis
MF 44 - The Role of Mindfulness, Gratitude, & Peace Practice in Islam with Rose Hamid
MF 44 - The Role of Mindfulness Gratitude Peace Practice in Islam with Rose Hamid
MF 43 - OMG I can Meditate! Guided Meditations to Help Develop a Regular Meditation Habit with Lynne Goldberg
MF 42 - A Life Time Commitment to Zen Meditation Practice after 12 Steps with Sandy Haskin
MF 41 - Best Wishes for 2016 and Timeless Moments
MF 40 - Sound Healing Meditation & Resonance with Mark and Denise